"2022" Latest R&D Series:BS-2085F Motorized Automatic Biological Microscope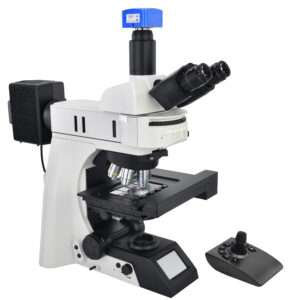 Introduction
BS-2085F motorized automatic biological microscopes have been designed to present a safe, comfortable and precision observation experience. The motorized X-Y stage and nosepiece, auto focusing, touch screen controller and powerful software will make your works easier. The software has motion controlling, depth of field fusion, objective lens switching, brightness controlling, auto focusing, area scanning, image stitching, 3D imaging functions. Semi-APO objectives and B, G, U, V, R fluorescent filters are available for BS-2085F fluorescent automatic biological microscope. 4pcs slide can be placed on the stage for automatic scanning, a LCD touch screen in front of the microscope, which can show magnification and illumination information. With perfectly performed structure, high-definition optical image and ergonomical operations, BS-2085F realize professional analysis and meet all the needs of research in biological, medical, life science and other fields.
Features
1. Adopt line motor and screw driving mode.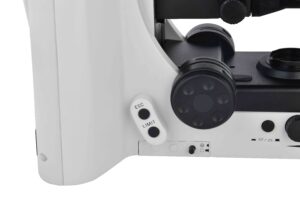 Low-hand electric focusing mechanism, independent operation of left and right hand wheels, three speed adjustment, focusing range 30mm, repeat positioning accuracy: 0.1μm.
2. Tilting Trinocular Head is optional.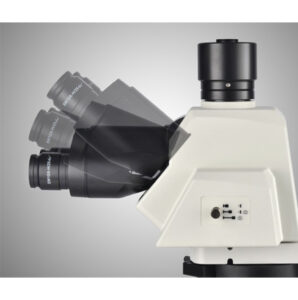 (1) The eye tube can be adjusted from 0°-35°.
(2) Digital cameras or DSLR cameras can be connected to the trinocular tube.
(3) The beam splitter has 3-position (100:0, 20:80, 0:100).
(4) The splitter bar can be assembled on the either side according to user's requirements.
3. Nosepiece Rotating Buttons.
This microscope has the function of motorized rotating nosepiece with the 2 buttons.
4. Light Intensity Management.
With motorized and coded nosepiece, when the objective is changed, the light intensity will also be changed accordingly. Thus, from low to high magnification, the field of view maintains the same brightness. There is no need to manually adjust the intensity of the light and also reduce eye fatigue. The long-life LED light source ensures uniform brightness while is easy to maintain.
5. 6-Position Turret for fluorescent filter blocks.
All the fluorescent filter blocks use the high-performance filter lens. Up to 6 filter blocks can be installed in the turret, that allows users to view different stained specimens with a turret.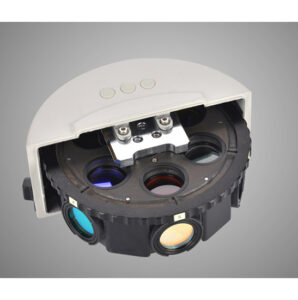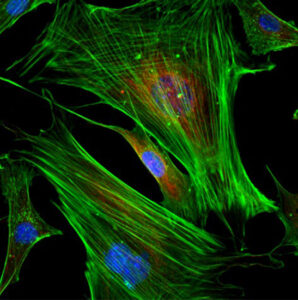 6. Can be controlled by the control handle and software.
This microscope can realize LED brightness, objective lens switching, auto focus, and electric adjustment of X-Y-Z axis through the software and control handle. The software can realize depth of field fusion, objective lens switching, brightness control, auto focus, area scanning, image stitching, 3D imaging and other functions.
Application
This motorized automatic microscope is an ideal instrument in biological, histological, pathological, bacteriology, immunizations and pharmacy field and can be widely used in medical and sanitary establishments, laboratories, institutes, academic laboratories, colleges and universities.