"2020" Latest R&D Series:BS-2085 Motorized Automatic Biological Microscope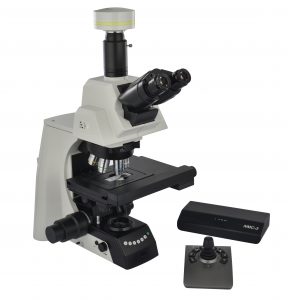 Introduction
BS-2085 motorized automatic biological microscopes have been designed to present a safe, comfortable and precision observation experience. The motorized nosepiece, X-Y stage, condenser and auto focusing will make your works easier. The software has motion controlling, depth of field fusion, objective lens switching, brightness controlling, auto focusing, area scanning, image stitching, 3D imaging functions. Semi-APO objectives and B, G, U, V, R fluorescent filters are available for BS-2085F fluorescent automatic biological microscope. With perfectly performed structure, high-definition optical image and ergonomical operations, BS-2085/FMA realize professional analysis and meet all the needs of research in biological, medical, life science and other fields.
Features
Adopt stepper motor and screw driving mode.
Tilting Trinocular Head.
Motorized Objective Change.
Nosepiece Rotating Buttons.
Motorized Swing-out Condenser.
Light Intensity Management.
6-Position Turret for fluorescent filter blocks.
Can be controlled by the control handle and controller, also can be controlled by software.
Application
This motorized automatic microscope is an ideal instrument in biological, histological, pathological, bacteriology, immunizations and pharmacy field and can be widely used in medical and sanitary establishments, laboratories, institutes, academic laboratories, colleges and universities.