"2020" Latest R&D Series:BS-2093A Inverted Biological Microscope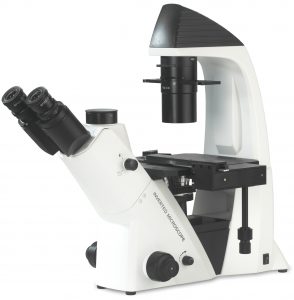 Introduction
BS-2093A Inverted Biological Microscope is a high level microscope which is specially designed for medical and health units, universities, research institutes to observe cultured living cells. With an innovative infinite optical system and ergonomic design, it has excellent optical performance and easy to operate features. This inverted biological microscope makes your work enjoyable. Digital cameras can be added to the trinocular head to take photos, videos and make measurement.
Feature
Excellent infinite optical system, Wide field eyepiece, view field up to Φ22mm, more comfortable for observation.
More objectives can be installed on the large diameter quintuple nosepiece, easier to change objective.
Light distribution (both): 100 : 0 (100% for eyepiece); 80 : 20 (80% for trinocular head and 20% for eyepiece).
Long working distance condenser N.A. 0.30, Working distance: 72mm(with condenser), Working distance: 195mm (without condenser), available for extra high culture dishes.
Large size stage, convenient for research. Size: 210mm(X) × 240 (Y)mm, Moving range: 128mm (X) × 80 (Y)mm.
Culture Dish Holder
Knob of X-Y mechanical stage can be changed by left or right.
Infinite plan 4X phase contrast objective is available.
Application
BS-2093A Inverted microscope is used by medical and health units, universities, research institutes for observations of micro-organisms, cells, bacteria and tissue cultivation. It can be used for continuous observation of process of cells, bacteria grow and divide in the culture medium. Videos and images can be taken during the process. This microscope is widely used in cytology, parasitology, oncology, immunology, genetic engineering, industrial microbiology, botany and other fields.