Four-wheel Alignment:GigE Camera for Four-wheel Alignment
Features
Aptina and Sony CMOS sensor, 1/2.5" and 1/1.8" sensor size, Rolling Shutter.
Gigabit Ethernet interface, use CAT5 Ethernet cable can transmit up to 100 meters.
Support 5mp@14fbps; 6.4mp@15fbps, all monochrome.
GigE Vision interface, Support VC, VB, C#, DELPHI, LABVIEW Opencv, Mil and other development language.
Support ROI, exposure, Gain, User GPIO.
Support continuous, software trigger, External trigger.
Durable aluminum alloy shell by CNC, Volume 29*29*37.5(mm).
12V DC, Less than 5W.
3years Warranty.
GPIO Interface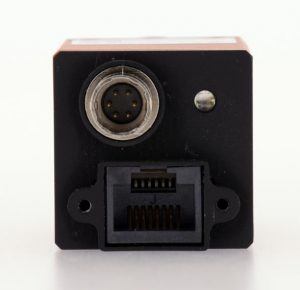 Gigabit network interface
1) Please use more than cat5 Ethernet cable.
2) Please use the cable with locking screw device. When connecting with the camera, please use the screw to lock the cable and the camera.
Mount
1) Mechanical interface of camera lens, using standard C-Mount, compatible with manual C-mount lens
Spectral Response Curve