Industrial USB Camera for Four-wheel Alignment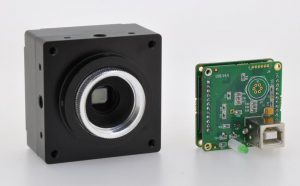 Feature
Aptina and Sony CMOS sensor, 1/2", 1/1.8", 1/2.5 sensor size, Rolling Shutter.
Support 1.3mp@15fbps, 5.0mp@7fbps; 5.0mp@14fbps, 6.4mp@30fbps, all monochrome.
Unique solution to ensure that the one computer connected to multiple cameras high-speed image acquisition.
Camera module collocate the M12 interface lens, can maximize the reduction of customer hardware costs and installation space.
Support users to write camera' s serial number, provide 1024 k configuration data area for custom write.
Support extraction modes, users can choose AOI area(Area of Interest), the image frame rate is greatly speed up after the extraction.
Separate image capture and preview, support high-speed preview, high-quality acquisition; Support SKIP2/SKIP4/SKIP8 3 extraction modes, the image frame rate multiplied after the extraction; also Support Binning mode.
Gamma correction, extended RGB gain.
Support for still image capture (JPG, BMP), compressed videos.
Provide completed API for users Secondary development, provide Demo Source Code.
Support the plug recovery during acquisition and preview.
Plug and play, dispense with external power supply, Support firmware upgrade on-line.
Support VC, VB, C#, DELPHI, LABVIEW Opencv, Mil and other development language.
Driver support Windows 32&64bit system, also can custom-makeLinux-Ubuntu embedded system.
Durable aluminum alloy shell by CNC, Volume 54*54*45(mm), Weight 165g.
3 years Warranty.
Camera model& Parameter 
Model

UC130M (MRNN)

UC500M (MRYY)

U3C500M (MRYNO)

U3S640M (MRYY)

Sensor type

CMOS

CMOS

CMOS

CMOS

Color type

Monochrome

Monochrome

Monochrome

Monochrome

Scan Mode

Progressive

Progressive

Progressive

Progressive

Shutter

Rolling

Rolling

Rolling

Rolling

Resolution

1.3MP

5.0MP

5.0MP

6.4MP

Optical format

1/2"

1/2.5"

1/2.5"

1/1.8"

Pixel Size

5.2×5.2μm

2.2×2.2μm

2.2×2.2μm

2.4µm

Max Resolution

1280×1024

2592×1944

2592×1944

3096×2080

Max FPS

15 fps

7fps

14fps

30fps

SNR

45dB

38.1dB

38.1dB

50dB

Dynamic Range

68.2dB

70.1dB

70.1dB

70dB

Interface

High-speed USB2.0 interface, up to 480Mb/s

Super-speed USB3.0 interface, up to 5Gb/s

Power supply

USB2.0 interface, 300~500mA@5V

Super-speed USB3.0 interface, 300~500mA@5V

GPIO control

Customization

Basic function

Preview, image capture, Video recording

Programmable control

Preview/Capture field of view AOI, SKIP/BINNING mode, Contrast、

Brightness, Gamma, gain, exposure, bad pixel removing, write camera serial number

Exposure

Auto / Manual, Area can be controlled

Image format

 8Bit

Interface support

ActiveX, Twain, DirectShow, VFW

System support

Windows XP/2000/7/8/10 32&64 bit OS

SDK

Support VC, VB, C#, DELPHI, LABVIEW Opencv, Mil and other development language

Mount

C/M12

Working temperature

0℃ to 60℃

Storage temperature

—30℃ to 70℃

Appearance size

H54mm*W54mm*L45mm

Module size

H39mm*W39mm*L25.9mm

Net Weight

Module 30g, Total 165g (with shell)

Warranty

3years